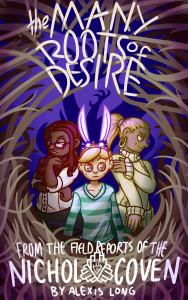 At Gordon High School, in the town of Nichol, three witches hide their abilities and try to get their lives sorted out. A bookish teacher questions her relationship with her otherworldly partner. A volleyball star demands nothing but perfection from herself, despite the scars it causes. A scared freshman hides in her room, questioning who she is, and her very humanity. But as something sinister grows beneath the earth of the town, reaching out to kidnap and replace students, they'll have to put their personal problems aside if they want the school, and themselves, to survive…
The Many Roots of Desire, the first book of the Nichol Coven series, is now released! It's a series about modern day witches living in secret and trying to find themselves, and maybe save the world, too. It's a YA series, so while it addresses some mature themes, it should be cool for young adults to read! This is a series of stories that's very important to me. It's an attempt to write the kind of thing I wanted to read in junior high. I think I succeeded pretty well!
You can purchase a copy below, or if you'd like, find it on Amazon here.