Thanks for taking a look at my longer works! Here's what I currently have for you.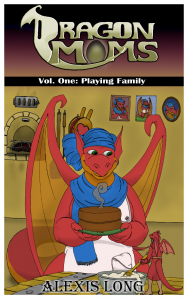 Dragon Moms Vol. 1: Playing Family
Mothers come in all shapes and sizes. One, for example, could be a strong ex-soldier, now stuck at a desk job with an unexpected egg from a little fling with a young guy. One could be a happy, energetic baker, adopting a lost human child even though it could bring about a second human war. And one could even be a terrifying, eternal dracolich, trying to figure out a new, less evil way of life for her and her constructed child. No matter what kind of mother, though, one thing is clear: in the dragon lands, motherhood is always an adventure.
Dragon Moms: Vol. 1 is the first collection of my ongoing serial story about dragons, moms, and most of all, family. You can purchase it at itch.io, or at Amazon here.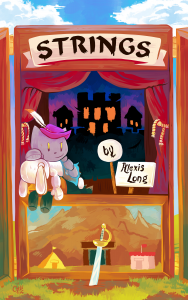 Strings
Prince Petal has a problem. For years he's worked hard to establish himself as a respectable gentleman and the finest fencer in the Nine Kingdoms. But a war is brewing, and his mother is convinced an arranged marriage, and Petal bearing a heir, is the solution. Can Prince Petal alone stop a war to save his identity? With the intervention of a traveling entertainer and her mysterious collection of puppets, there might be a chance…
Strings is a fantasy novella of political problems, princely passions, and puppets. You can purchase it at itch.io, or at Amazon here.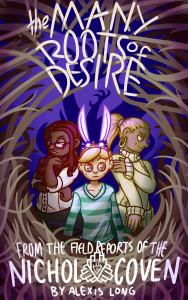 The Many Roots of Desire
At Gordon High School, in the town of Nichol, three witches hide their abilities and try to get their lives sorted out. A bookish teacher questions her relationship with her otherworldly partner. A volleyball star demands nothing but perfection from herself, despite the scars it causes. A scared freshman hides in her room, questioning who she is, and her very humanity. But as something sinister grows beneath the earth of the town, reaching out to kidnap and replace students, they'll have to put their personal problems aside if they want the school, and themselves, to survive…
The Many Roots of Desire is the first book of the Nichol Coven series, a set of YA books about secret witches finding their place. You can purchase it at itch.io, or at Amazon here.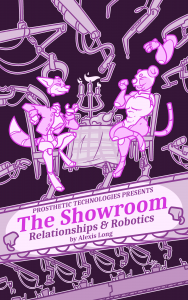 The Showroom: Relationships and Robotics
In the city of Echo, a monolith of glass and metal looks down over those who live there. It is The Showroom, a showcase for the latest and greatest erotic technology the world has ever seen. The Showroom has brought prosperity, of course, but for the citizens of Echo, the effects on their lives, and the strain and joy it put into their relationships, was something they had never expected.
The Showroom is a collection of interconnected short stories that paint a picture of an odd futuristic world and a company that's helping to shape it. The book deals with issues of sexuality, gender, and humanity, and does contain explicit sexual content. You can currently pick up the book at itch.io, or if you'd prefer, at Amazon.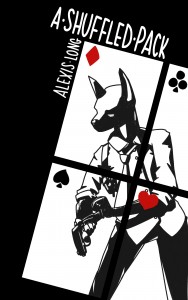 A Shuffled Pack
Murder has a way of ruining everything. Prince of Sylvan, dog, pack gamma, and police detective, finally had everything going right in her life. Love, career, and duty were all aligned perfectly. Nothing could throw it all into chaos, except a new partner, and a murder that could ruin everything she's worked so hard for. Now, as she chases the killer through the criminal underworld, it becomes more clear how much it affects her family, and how, instead of dealing with the stacked deck she had built, she's left with a shuffled pack…
A Shuffled Pack is a novella about a lesbian dogmonster detective solving a murder that's set to destroy her pack and way of life. It's a procedural sort of story with strong queer themes. You can currently pick up the novella at itch.io, or at Amazon.